Botanic Choice
Maximum Strength Neuro Support Plus LX™
Natural Comfort for Feet & Legs
Item No.#

1885
|
✓ In Stock
Benefits of Maximum Strength Neuro Support Plus LX™
Supports leg and foot comfort
Benefits overall nerve function
Plays a role in efficient use of insulin
Inhibits oxidative stress
Stronger dosages and more ingredients than original Neuro Support Plus
Enhances quality of life
You probably don't think much about your nerve endings, yet this complex "wiring" forms an elaborate communications system between your brain, bodily processes, movement and your environment.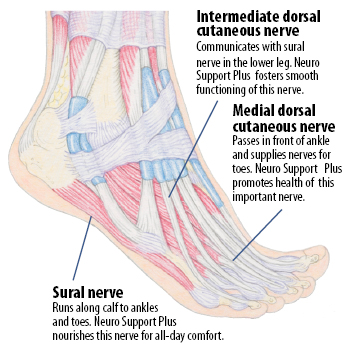 Advanced Breakthrough for Maximum Strength and Maximum Comfort
Breakthrough research reveals that Vitamin B1 (benofotiamine), in conjunction with other B vitamins and ingredients found in Maximum Strength Neuro Support Plus LX, benefits nerve endings and supports circulation.
Not Your Ordinary Ingredients
All high-quality, special forms and extracts including...
Vitamin B-12 - A special form your body uses more efficiently than regular B-12.
Vitamin B-6 - Extensively studied for its effect on nerve health.
Folic acid - For comfort, especially when in conjunction with B-12.
Ginkgo biloba extract - Standardized to 24% ginkgoflavonglycosides and 6% total terpene lactones.
Magnesium - Low levels are associated with nerve health.
Alpha lipoic acid - The universal antioxidant s also involved in glucose metabolism.
Chromium as ChromeMate (R) - Important for the efficient use of insulin and glucose.
Vitamin B-1 - A special form of B-1 that doesn't just pass through your system like regular B-1.
Maximum Strength Neuro Support Plus LX Customer Highlights
Results - "Love the results. Your Maximum Strength Neuro Support Plus LX has made a big difference in my life. Makes life livable."
ChromeMate brand niacin-bound chromium is a registered trademark of InterHealth N.I.
* These statements have not been evaluated by the Food and Drug Administration. These products are not intended to diagnose, treat, cure or prevent any disease.
Rated

5

out of

5
by
Steve Bergseng
from
Vitamin works
It works plain and simple. I was on a prescription that was horrible. After trying this Neuro Support I realized I made a very good decision to try this. It took care of my issues with neuropathy right away
Date published: 2021-12-27
Rated

1

out of

5
by
Virginia
from
Maximum strength neuro support plus
I had to return it I took one pill and caused me a lot of discomfort
Date published: 2020-07-06
Rated

4

out of

5
by
jterukot
from
Helpful!
I bought this to increase feeling in my hands. It helps a lot
Date published: 2019-07-15
Rated

5

out of

5
by
sam
from
Excellent Product
Great product with excellent value. Doing wonders for my nerves.
Date published: 2019-03-20
Rated

4

out of

5
by
Tall Texan
from
submissions Trying the Max Strength Version
I have been taking the Max version of Neuro Support Plus for only a month and believe it is acting as well or better than the ooriginal, but it's a little too early to be sure?
Date published: 2018-11-01
Rated

3

out of

5
by
Samm
from
Neuro Support
Not as good as your other Neuro product. Am still using.
Date published: 2018-08-03
Rated

5

out of

5
by
Big Ken
from
It works
Been using for years and have been happy with the results
Date published: 2018-07-27
Rated

5

out of

5
by
Finn
from
Hearthler for life
So far very good and hope to continue feeling as well.
Date published: 2018-07-25