Botanic Choice
Neuro Support Plus™
7 Ingredients for Natural Comfort
Item No.#

1496
|
✓ In Stock
Benefits of Neuro Support Plus™
Soothes feet and lower legs
Benefits overall nerve function
Plays a role in efficient use of insulin
Delivers seven ingredients
You probably don't think much about your nerve endings, yet this complex "wiring" forms an elaborate communications system between your brain, bodily processes, movement and your environment.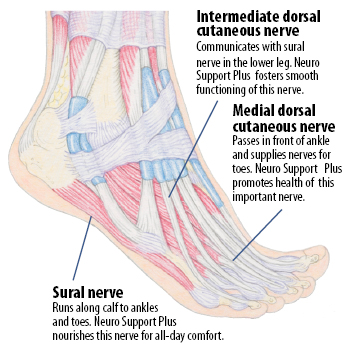 Seven Ingredients for Maximum Comfort
Recent studies revealed that Vitamin B1 (benofotiamine), in conjunction with other B vitamins, Biotin, Chromium, Alpha Lipoic Acid, and DMG, all found in Neuro Support Plus, benefit nerve endings and support healthy circulation. Try it today!
* These statements have not been evaluated by the Food and Drug Administration. These products are not intended to diagnose, treat, cure or prevent any disease.