The Botanic Choice Herbalist Story
The history of the Indiana Botanic Gardens, Inc., begins in 1910 with the founding of the company by Joseph E. Meyer. Born in Wisconsin in 1878, Joseph Meyer acquired a curiosity about plants and nature at a young age. His father, who was a photographer, often took Joseph out on assignments into forests and fields. From here, Joseph learned a great deal about various aspects of nature. Complications in Joseph's family and financial life caused him to temporarily step aside from nature and take up a more practical career in printing. Joseph soon found himself in Chicago working for a large printer. Not long after, a strike shut down the printer and Joseph found himself at The Hammond Times.
After settling in Hammond, Joseph desired to have a business of his own, preferably something in the printing industry. Giving consideration to his set of skills, Joseph realized that he knew a great deal about printing and even more about nature. A company that sold herbs through a catalog would be a profitable endeavor for Joseph Meyer thanks to his possession of an old printing press and vast knowledge of natural remedies. It was with the blending of these two passions that gave birth to Indiana Botanic Gardens, Inc.
From Humble Beginnings
The business, initially called the Indiana Herb Gardens, began in a small cottage in the rear of Joseph Meyer's Hammond, Indiana home where he started growing and harvesting plants in a vacant lot. In the beginning, the business barely made living expenses for the family. Meyer's children assisted him with activities like gathering herbs from nearby fields, packaging boxes, feeding the printing press, and binding catalogs with needle and thread.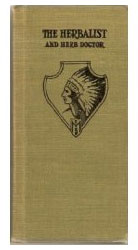 In 1918, the 400-page book, The Herbalist was printed and business expanded. Since the company was now able to sustain itself, it moved from Meyer's cottage to a more formal and larger building off of Calumet Avenue in Hammond (pictured on the right).

Following the success of The Herbalist, a decision was made to create an annual publication. In 1925, The Herbalist Almanac was brought into publication. This almanac was an eclectic booklet that contained a hodge podge of things from listings of the herbs and roots that the company sold to recipes, Indian weather forecasts, treatments for common ailments, popular songs of the day, advice on farming issues and more. In 1979, after fifty-four years of publication, The Herbalist Almanac was retired.
The Business Expands
The same year that The Herbalist went into publication, Joseph purchased a wild tract of land on the Little Calumet River. The land held a profusion of medicinal plants and virgin forest. In 1926, a beautiful English gabled building was built. This became the home of the newly named Indiana Botanic Gardens, Inc.
During the next few years, Joseph traveled to all parts of North America to gather material and information on native plants and their uses. Mail poured in from all over the world including universities, libraries, botanists and people from all ranks of life. In 1932, he traveled to Europe to seek rare herbals.
In Joseph Meyer's time self-treatment with herbs was commonly practiced and often necessary due to economic conditions or the scarcity of professional medical help. Mr. Meyer devoted his life to providing herbs to people, and many grateful customers sent letters and recipes extolling the benefits. The Old Herb Doctor was compiled from this information to let other customers know how other customers had used herbs and the good results they obtained from them.
The Family Tradition Continues
Eventually the business was passed on to his great-grandson Tim Cleland, current president of the company. In 1990, the company moved to nearby Hobart, Indiana and began selling vitamins and other nutritional supplements in addition to bulk herbals. The new Hobart location has a retail store and also sells wholesale products. The bulk of the business continues to be derived from catalogue mail order sales. Indiana Botanic Gardens, Inc., is the largest seller of herbs by mail order in the world. In recent years, the company stopped growing its own herbs and began buying them from suppliers. With the addition of new items and product lines, the company has grown five fold since 1990.