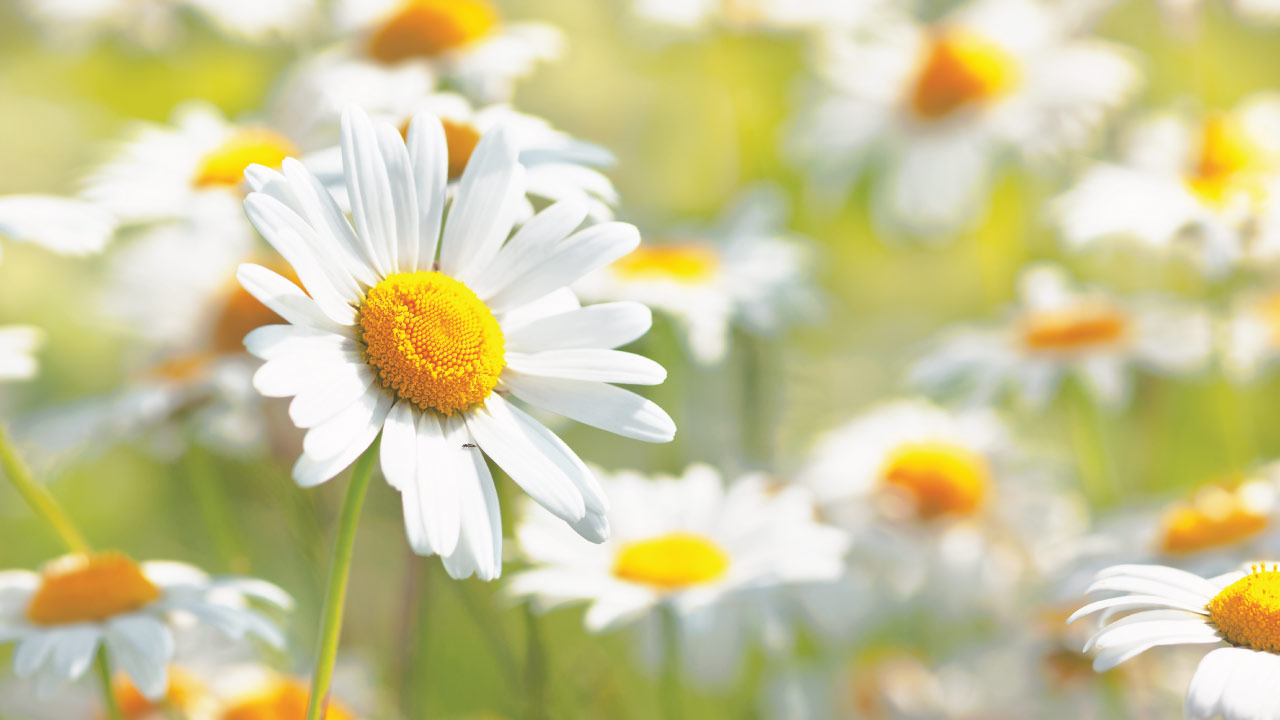 Chillin' with Chamomile Guide
August 1, 2022
Chamomile (Matricaria recuita) is a beautiful flowering plant belonging to the daisy (Asteraceae) family. Native to Europe and Western Asia, it now grows around the world. Its name comes from the Greek meaning ground apple because the herb has a slightly sweet, earthy apple aroma.  There are two types of chamomile: German and Italian.
In This Healthy Insight:
Chamomile for calming nerves
Chamomile's been used as an herbal remedy since ancient Egyptian times. Through the ages, it's been the go-to herb for fever, kidney health, sleep, bladder, digestion, skin, allergies, bruises, female issues and hemorrhoids. If that sounds like a cure-all, you're right. It was the panacea for centuries. Besides medicinal use, chamomile found favor in the kitchen, too. Romans used it to spice up their food and during the Middle Ages monks added it to sweeten their home-brewed beer.
Known today as the herb of rest and relaxation, Chamomile continues to be popular for its calming properties both internally, taken as a tea or tincture, and externally as an ingredient in beauty creams and lotions. Its benefits appear to come from its 120 chemical constituents including chamazulene, bisabolol, apigenin and luteolin, which appear to boost chemicals in the brain such as serotonin and dopamine that affect mood.
Chamomile for calming skin
This little herbal gem is great for skin too. Just look at all it does:
Soothes irritated skin
Calms puffy eyes
Eases appearance of dark under-eye circles
Brightens skin naturally
Moisturizes and softens
Protects from free radical damage
Fights the signs of aging
Helps tighten pores
Six Fun Facts about Chamomile
Annually the US imports nearly one million pounds of chamomile, with about 90% used for herbal tea.
German chamomile flowers give off a strong, pungent aroma while Roman chamomile is sweet and fruity.
The Spanish used chamomile to flavor sherry.
During the Middle Ages monks noticed that planting chamomile near ailing plants, would aid in their recovery, perhaps due to chamomile's insect repelling scent.
Depictions of chamomile can be found in Egyptian hieroglyphics dating back 2000 years.
When it comes to symbolism, chamomile sends a hopeful message of "may all your dreams come true."
Quality chamomile products
Whether you're looking for chamomile for relaxation or beauty, you'll find just what you need right here at Botanic Choice.