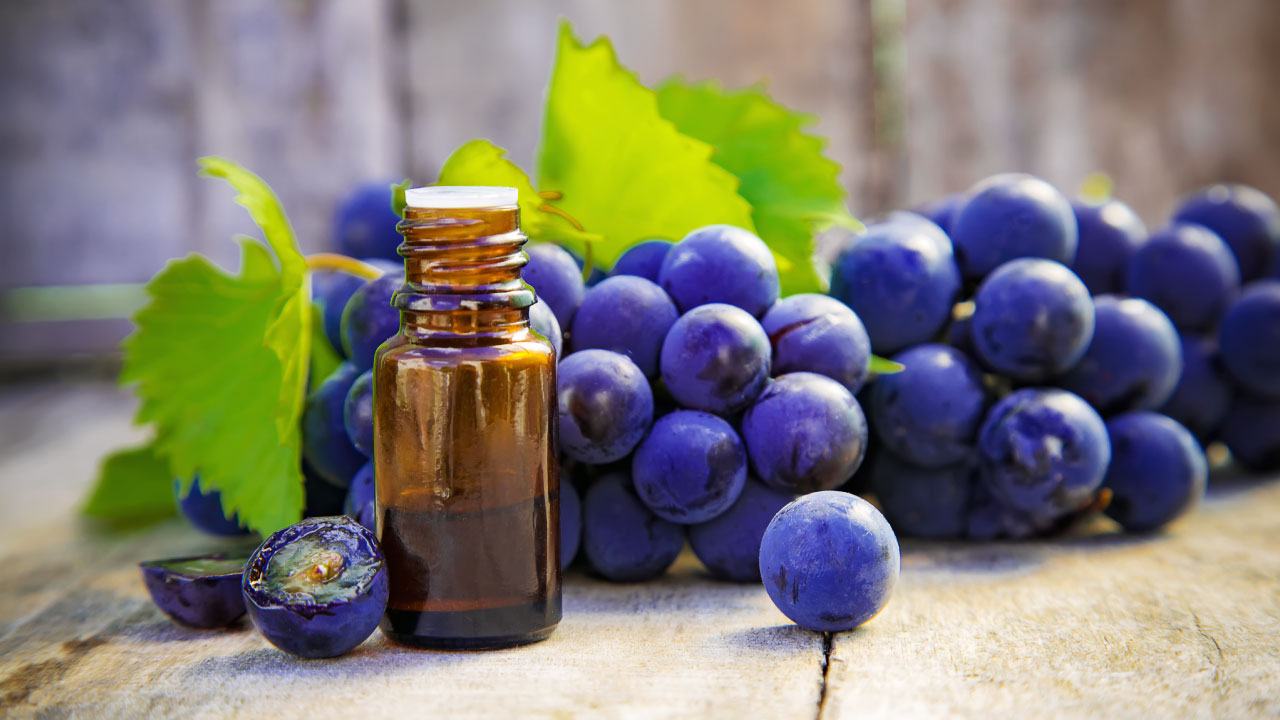 Grapeseed Oil for Skin and Hair
December 17, 2020
Grapeseed oil for hair and skin. Discover grapeseed oil benefits and why it should be a part of your beauty routine every day.
All about Grapeseed Oil
Grapeseed Oil (Vitis Vinifera Herb) comes from the is an all-natural by-product of the winemaking and juice-making process. Once the grapes are pressed, the seeds are left over. For centuries Grapeseed Oil was considered worthless and discarded. While Grapeseed Oil has been popular for overall wellness, recently it's found its way into the beauty aisle. Like coconut oil, Grapeseed Oil contains linoleic acid and antioxidants that are good for your skin and hair, but unlike coconut oil, it's lightweight and won't clog pores or weigh down your hair.
Types and Forms of Grapeseed Oil
Grapeseed Oil contains Omega 6 fatty acids, antioxidants, vitamins C, E and more. Grapeseed Oil can be used topically or taken in liquid or capsule form.
What are the Benefits of Grapeseed Oil?
Moisturizes and hydrates skin
Evens skin tone and texture
Lightens the appearance of dark circles and discoloration
Eases redness
Firms the look of skin
Restores hair's shine
Combats dry scalp
Delivers linoleic acid for overall health and wellness
Grapeseed Oil for Hair
Grapeseed Oil can enhance the condition of your hair and scalp. It moisturizes dry scalp and helps loosen dead skin. While some natural oils like olive oil and coconut oil are good for your hair, they can leave it feeling oily and heavy. Not the case with Grapeseed Oil. It's lightweight and adds moisture, strength and shine without weighing it down. It's ideal for all hair types and especially helpful for dry, brittle or color-treated hair.
How to Use Grapeseed Oil for Hair
Simply massage a couple of tablespoons of Grapeseed Oil into your hair and scalp before shampooing.
Grapeseed Oil for Skin
Probably Grapeseed Oil's biggest benefits are for your skin.
Fades the appearance of dark spots. Grapeseed Oil delivers antioxidants, minerals, vitamins and fatty acids that work together to fade the look of discoloration.
Moisturizes and firms your look. Grapeseed Oil contains Vitamin E, an ingredient found in expensive eye creams and serums. Combined with the hydrating fatty acids, it may make skin look tighter and more youthful.
Makes skin feel smoother, softer and silkier. The emollients go on smoothly and are easily absorbed leaving your skin feeling great.
Evens out skin tone. The antioxidant proanthocyanidin in Grapeseed Oil may help even out skin tone and texture.
Fights breakouts. Since it's high in linoleic acid, also known as Omega-6 fatty acid, it works to fortify the skin's barrier and make help with breakouts.
Combats free radicals. Since Grapeseed Oil contains so many beneficial antioxidants it offers some environmental protection against the full damage of UV rays and pollution.
Eases redness. Also due to its linoleic acid, Grapeseed Oil can soften redness on the face.
Promotes your skin's elasticity and ability to bounce back.
How to Use Grapeseed Oil for Skin
Light in texture, Grapeseed Oil can be used in many ways, most commonly as a moisturizer after cleansing. It's non-comedogenic and non-greasy, making it suitable for all skin types and for use day or night. You can apply directly to your face or mix a drop or two into your favorite facial cream to help seal in moisture.
As a body lotion, simply apply directly to your skin. Due to its mild aroma, Grapeseed Oil can easily be used as a carrier oil for essential oils. For a spa-like experience, combine Grapeseed Oil with Tea Tree Oil, Juniper, Frankincense or Lavender.
Since Grapeseed Oil addresses a variety of skin concerns, individuals with multiple issues can streamline a number of products into this one multi-purpose oil. While an allergic reaction to Grapeseed Oil is very rare, it's always a good idea to first do a test spot on a less visible part of your skin like your wrist. Wait 24 hours and check for any reaction.
Grapeseed Oil is simple, easy and inexpensive to try. As with all health and beauty products consistency is key. Be patient and you will see a difference in time. These statements have not been evaluated by the Food & Drug Administration. These products are not intended to diagnose, treat, cure or prevent any disease. Individual results may vary.